Facing Multiple Stigmas
HIV, HPV, and Anal Cancer
,I have been fighting stigmas from before I was born… most recently from a diagnosis of invasive squamous cell anal carcinoma, one of the six cancers strongly linked to HPV infection. It's a diagnosis that has required focus, decisiveness, and a leap of faith.
The Oxford Dictionary defines stigma this way:  Originally (in the late 16th century) a mark made on the skin by pricking or branding, as punishment for a criminal or a mark of subjection, a brand; in extended usage, a mark of disgrace associated with a particular circumstance, quality, or person.
This is how I have often felt: marked, branded, disgraced and it began before I was even born.
My father would only agree to my birthname, Steven, spelled with a "v" because he felt a "ph" in Stephen, would put me at risk of being gay. "Where did you get that idea Dad, and how did it workout?"
By age six I knew I was gay. Growing up in Upstate NY in the 1970s knowing and having others know you were gay was brutal.
In 1983 I moved to NYC, and at a family visit upstate I had an aunt say: "Don't dip into that dish, what are you trying to make, AIDS stew?" For the record, my mother was appalled and has always supported me being my authentic self.
In 2002, under the care of Dr, Michael Strauss, I received an HIV positive diagnosis. Even now in 2022, as I write this, I wonder, "Is it ok to say openly that I'm HIV positive? Or is it something I should hide?"
In 2021, under the care of Dr. Stephen Goldstone of the Anchor Study, I received an anal cancer diagnosis. I am so grateful for Dr. Goldstone and the work of the Anchor Study because it gave me early detection. I am authoring this personal story now in hopes of combating the most recent stigma I've faced: having anal cancer.
I mention the following doctors who have cared for me with the greatest appreciation and respect: Dr. Strauss, Dr. Sanjana, Dr. Mullen; Dr. Gaisa, Dr. Goldstone, PA-C Baker, and Dr. Romesser.
—————————-
In March of 2020, the COVID lockdown was in effect. I was not sure which was harder: being alone, as I was, in a NYC apartment or being with an entire family in a NYC apartment. For the first six months, I was quite amused, but by August, I was leaning in on self-improvement, reading Brené Brown, like my life depended on it, and putting myself into psychotherapy.
It was a time of growth for me, painful and joyful growth, which led me to take a one-month sabbatical in May of 2021. I have a passion for Astrophotography and planned a trip to the Atacama Desert in Chili… then just weeks before my trip, the Chilean borders were closed due to COVID surging.  I followed the advice, "It's about the journey, not the destination" and adjusted my plan by renting a 32-foot RV in Las Vegas and driving it into Death Valley (Astrophotography is easier with dry, clear, and dark skies). My month in the desert was most unpleasant—soaring temperatures above 120-degrees—malfunctioning equipment—loneliness—loss of hope. I came back from sabbatical feeling like I was at rock bottom, questioning my journey, my faith, and my ability to push through the isolation of my NYC apartment.
I muddled through the months of June and July of 2021 doing my best to find the silver lining in my sabbatical experience when I received a call from the ANCHOR Study about a biopsy they had taken during my bi-annual HRA (High Resolution Anoscopy).  The voice on the phone informed me that they had detected cancer. I was calm—it appeared as a logical next scene in the movie of my life—now I was at rock bottom. I was heading to upstate New York where my mother lives to be there when she had an aortic valve replaced with the TAVR procedure. A general rule I follow is "only one crisis at a time," so I quickly prioritized her surgery over discussing the cancer diagnosis with family and instead told my diehard-best-friend Lisa about the news.
After getting through the crisis of my mother's surgery, I focused on the path forward. The Anchor Study recommended an excision procedure, but I decided to get a second opinion at Memorial Sloan Kettering. Dr. Romesser, from the MSK team, recommended chemoradiation as the treatment plan. I agonized with which path to take; both come with various levels of success and risk. At the American Cancer Society website, they stated chemoradiation was the gold-standard of treatment and this gave me the decisiveness I needed to finalize my plan. It is a difficult decision for a patient to make and my advice is to ask lots of questions, research, make your decision, and move quickly to act on the plan.
In September of 2021, I began a five-week, Monday-Friday, chemoradiation treatment plan. The treatments gave me horrific Sciatica (thank you Dr. Albans for the miracle of acupuncture), hiccups, urinary urgency, fatigue, and hypersensitivity to light, touch, taste, and smell. Two days before my final treatment, and while I was taking a sitz bath, all the skin came off around my rectum and scrotum. I sent my family and friends away as I could not bear to have anyone watch me push through this. Passing a stool felt like a flaming shard of razors, and afterwards I would lie down on the cold and bloody marble floor until I had strength enough to clean myself and the bathroom and get back in bed. Fentanyl and Oxycodone offered me an uncomfortable numbness during these weeks of healing; however, beware of the opioids: they are necessary but addictive. It took more than a week for me to recover from the sickness and anxiety caused by stopping them.
It is now July of 2022, and I have late side effects that include fatigue, hiccups, and sufficiency fractures. Additionally, my CD4 count (important for immune response) remains exceptionally low. I am, however, in anal cancer remission… or as the woman in the Amazon documentary "Heal" said, remembering my mission, to keep living my best and most authentic life. It truly is about the journey and not just the destination. I have met some amazing people (shout out to Lillian, Liora, and Mary-Jo—my angels) and they have changed my life for the better, encouraged my growth, and helped me to get comfortable with uncertainty.
Whatever stigma or challenges there are ahead, I will face them unashamed, with courage and humility.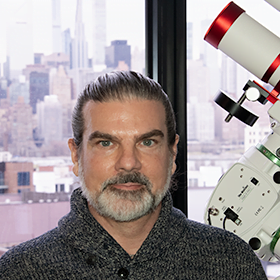 Steven Post has more than thirty years of technology and collaboration expertise working with New York City-based luxury brands and is currently Head of Global Digital Asset Management and Collaboration at Ralph Lauren Corporation.
His background includes seven years of volunteer service developing reading education programs in the public school system of Jamaica, West Indies. Steve recently completed chemoradiation treatment for HPV Anal Cancer in October of 2021 and is looking forward to assisting HPV Cancers Alliance empower others with knowledge about the health and lifestyle impact of HPV infection.